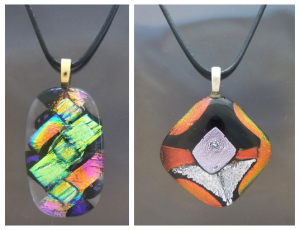 Come and learn how to make dichroic jewellery (dichroic glass is glass with a shiny metallic finish.)
This is a class for the complete glass novice.
In this three hour workshop you will;
make approximately 6 glass pendants (pics of samples are for illustrative purposes only)
learn the basics of cutting glass and learn how to assemble glass pendants
be taught safety aspects of working with glass as well as how to finish off your glass pendants
This is a good introductory class prior to going on to our plate making or more advanced fusing and slumping class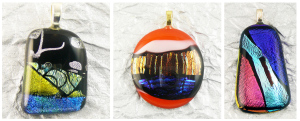 Please contact the studio for more information for our current
In-House Workshop Schedule
(08) 9375 9810 or email us
Please wear enclosed shoes and comfortable casual clothes to all workshops.