-Friday March 31st 2017
Art Glass Studio's own Marc Leib was last night announced as the winner of the prestigious 2017 Tom Malone prize for his piece 'Inner Core', at a ceremony at the Art Gallery of Western Australia. One of 10 finalists from around Australia, including 4 from Western Australia, Marc's piece has been acquired by the Art Gallery of Western Australia and is now a part of the state collection. This year marks the 15th anniversary of the Tom Malone prize, the winner is featured along side previous winners in a hard cover book being published to celebrate the anniversary, and the achievement of quality of work in this and previous years exhibitions.
Congratulations to all the finalists, and thanks to Elizabeth Malone, Stefano Carboni, Robert Cook, and Alan Dodge from the Art Gallery of Western Australia.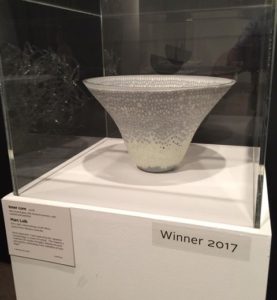 In Marc's words:
"I was inspired by the Japanese concept Ikigai, 'a reason for being'. This requires a multitude of complex thoughts, delving into your own psyche, culminating in the realisation of your Ikigai."
Judges' comments:
We congratulate Perth-based glass artist Marc Leib for his wonderfully accomplished work Inner core. A quiet work, at first glance it even seems to hide its riches. As you move closer though the piece comes alive in unexpected ways. The full form is activated by a milky, cellular-like, opaque feel enlivened by translucent highlights that give it a highly complex and animated aspect, and an almost unaccountable lightness. Marc achieves this result by ambitiously pushing traditional "murrina" cane-making and kiln-forming techniques to new ends. He makes a mould based form that far exceeds its typical small size creating an object that would usually be attained by blowing. In this way, he preserves the compression and density of the pattern. The final result is a haunting, very Australian object that is a fitting work of glass to mark and to celebrate the 15th year of the Tom Malone Prize.
Alan R. Dodge, Elizabeth Malone, Stefano Carboni, Robert Cook