British born artist and designer, Joanna Manousis lives and works in the United States, creating literary works in glass and mixed media that speak of human emotion, memory and the passage of time. Joanna has won numerous scholarships and awards for her individual approach in glass sculpture and installation through residencies at The Museum of Art and Design, NYC, Corning Glass Museum, NY and The Cité Internationale des Arts, France.
[themify_quote]"My work captures and animates liminal moments, revealing a world in which objects, beings and places are interconnected and in flux. I re-appropriate objects that exist in the world as a device to lure and engage a universal audience…I make intuitively, however, the technical ramifications of my chosen mediums propel me to a systematic way of working. This results in a seamless rendering of surface, that appears free from human touch."[/themify_quote]
When an object is transformed into a wax state, you have the ability to alter its structure, duplicate its form, and conjoin it with contrasting elements to create unique assemblages.
Taking advantage of the French silicon mother mould process for creating detailed multiples in wax, we will re-appropriate readily identifiable objects into one-of-a-kind configurations in Bullseye glass that prompt the viewer to think and ask questions. A variety of applications for shaping and casting waxes will be introduced, along with an in-depth overview of the lost wax process for kiln casting.
On this 6 day workshop, you will learn hand-built refractory mould construction and cold working techniques to aid visual access into the interior of your cast glass sculptures. Technical slide presentations and one-on-one conversation will enhance your artistic practice.
Some glass working experience is helpful but not required. Advanced students are also welcome.
You can see more of Joanna's work on her website www.joannamanousis.com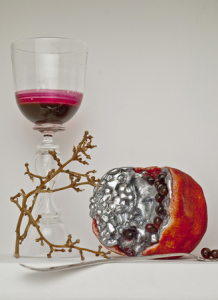 INTENSIVE 6 DAY WORKSHOP
SUNDAY 30TH APRIL – FRIDAY 5TH MAY 2017
$1895 ALL MATERIALS INCLUDED IN THIS WORKSHOP.
Secure your place with a $500 deposit, balance due by 15th March 2017.
Deposit is non-refundable and non-transferable.
Phone the Art Glass Studio on 9375 9810 or email info@artglassstudio.com.au
CLASS MATERIALS
Please bring the following to class:
glass cutter and hand tools, personal protective equipment including safety glasses, dust mask and ear protection