Richard Parrish's Tapestry bowls, trays and wall panels are widely recognized for their intricate patterning and coloration. The Tapestry pieces rely on colour relationships, design, and technique for success. This class will be an in-depth exploration of pattern making, starting with inspiration and investigating colour use, design and techniques in kiln glass.
This workshop, based around the Tapestry work, will explore several approaches to pattern making, beginning with inspiration such as: fibre/fabric (weaving, tapestry, bargello quilting, basketry, etc.); nature (plants, water, etc.) and geometry (grids, lines, circles, etc.).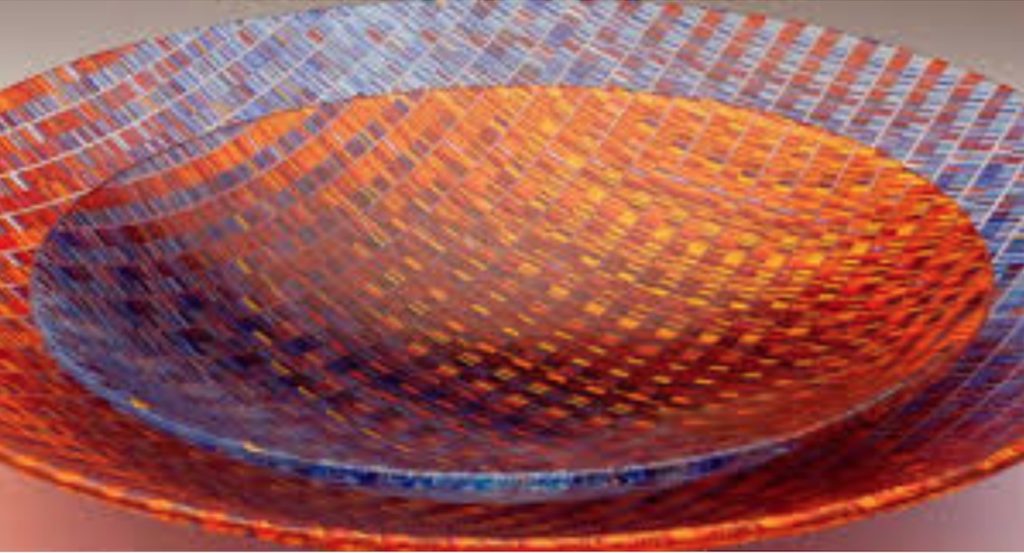 Elements of colour and design theory will be discussed and applied. Design principles such as balance, symmetry/asymmetry, emphasis, and repetition, together with colour principles. These are based on the colour wheel and colour relationships such as complimentary colours and contrast.
Each person will develop her/his own patterns through sketching and mock-ups. Techniques will be explored and developed as needed to achieve these patterns including: multiple firings, pattern sheets, cutting and reassembling, coldworking and finishing
This class is based on a belief that work that begins with ideas and inspiration, and is supported by design and technical knowledge, will be stronger, more personal and more original than those works without a solid foundation of these critical components.
Richard Parrish operates a studio for kiln-glass in Bozeman, Montana. He holds a Master of Architecture degree from the Cranbrook Academy of Art in Bloomfield Hills, Michigan and a Bachelor of Architecture degree from the University of Idaho in Moscow, Idaho. His art work is featured in a solo exhibition at the Rockwell Museum in Corning, New York and in a group exhibition at the Glasmuseet Ebeltoft in Denmark, both in 2016.
Workshop
Wednesday 21st – Saturday 24th May $1390
Secure your place with a $100 deposit. Phone the Art Glass Studio on 9375 9810 or email info@artglassstudio.com.au