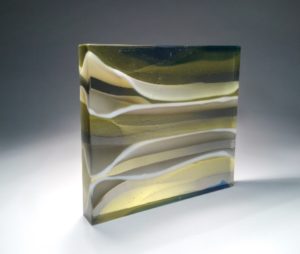 Nathan Sandberg studied glass and ceramics at Southern Illinois University, Carbondale. In 2003, he received his B.F.A., and went on to work at multiple private glassblowing studios throughout the Midwest, while independently furthering his education in kiln-cast glass. In 2005, he was hired by Bullseye Glass Company and moved to Portland, OR, where he worked full time as an instructor in the Research and Education Department until 2012. As a member of the Bullseye Research & Education team, he was responsible for developing and teaching new curriculum in kiln-formed glass. His work has received critical recognition through awards and shows at galleries, including Glazen Huis in Lommel, Belgium, and Gallery One One in Cincinnati, Ohio. He has also been represented by Bullseye Gallery at art fairs including, SOFA: Chicago and Art Santa Fe. His work is also included in private collections, both international and domestic. In 2012 Nathans LLC was launched with the goal of providing fresh, innovative curriculum in kiln formed glass through workshops. Nathan Sandberg's primary material is glass although his installations commonly make use of other materials like wood, metal and concrete.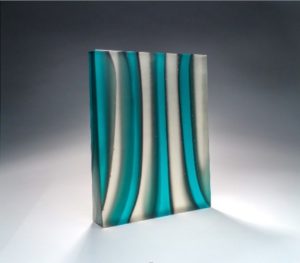 [themify_quote]When glass is exposed to adequate heat work in the kiln, it seeks a thickness of 6mm. This principle, in combination with simple engineering ranging from stacking glass to making ramps and firing on an incline can be harnessed in a variety of ways-many of which are still relatively unexplored at this point in the history of kiln glass. [/themify_quote]
Classroom time will be spent considering how glass moves and how we can use flow to our advantage while working on three projects. Principles of flow, deformation and displacement will be exploited. One project will result in a decorative vessel while the other two will produce a sculptural thick slab/wedge that demonstrate flow within a volume of glass. All are welcome, the only prerequisites are the ability to confidently and efficiently cut sheet glass and a willingness to experiment and take risks in the kiln.
You can see more of Nathan's work on his website at www.nathansandberg.com