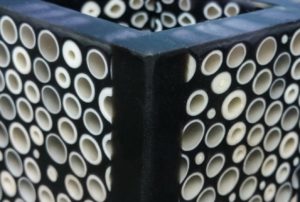 Nathan Sandberg studied glass and ceramics at Southern Illinois University, Carbondale. In 2003, he received his B.F.A., and went on to work at multiple private glassblowing studios throughout the Midwest, while independently furthering his education in kiln-cast glass.
In 2005, he was hired by Bullseye Glass Company and moved to Portland, OR, where he worked full time as an instructor in the Research and Education Department until 2012. As a member of the Bullseye Research & Education team, he was responsible for developing and teaching new curriculum in kiln-formed glass. His work has received critical recognition through awards and shows at galleries, including Glazen Huis in Lommel, Belgium, and Gallery One One in Cincinnati, Ohio. He has also been represented by Bullseye Gallery at art fairs including, SOFA: Chicago and Art Santa Fe.
His work is also included in private collections, both international and domestic. In 2012 Nathans LLC was launched with the goal of providing fresh, innovative curriculum in kiln formed glass through workshops. Nathan Sandberg's primary material is glass although his installations commonly make use of other materials like wood, metal and concrete.
[themify_quote]Give your murrine an edge in the world of murrine objects by taking the time to go a step further and combine methods that will help your work stand out in a crowded gallery. [/themify_quote]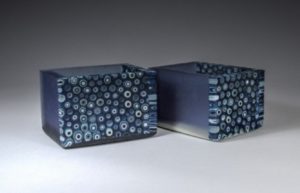 Students in this process driven workshop will learn how to use the Vitrigraph kiln to create custom murrine that will then be used to create a kiln formed glass box. Basic Vitrigraph murrine making will be covered alongside kiln casting in an assembled vermiculite board mould system. There are no pre-requisites but interested students should have glass cutting experience and be comfortable with circle cutting.

You can see more of Nathan's work on his website at www.nathansandberg.com