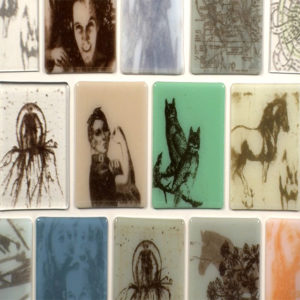 Learn to incorporate imagery into your kiln formed glass using various printmaking processes such as lithographic image transfers, screen printing with glass powder and chine colle (collage). Photographs, drawing and text can be used to create components that are then combined into layered projects. The master class also covers fusing basics, colour reactions, colour, composition and correct firing and annealing procedures for each process. No print making or glass experience necessary. All materials are included in the workshop fee.
[themify_quote]'My current work incorporates both printmaking and glass…One of my fascinations with both mediums is their ability to retain a record of how the piece was created. I tend to approach both processes in an experimental way, letting the properties of the materials suggest and guide the content. Conceptually my work reflects this process of transition – objects in motion, imagery submerged just below the surface, the traces of an explosion. I am interested in examining how evidence is presented, how events are reconstructed.'[/themify_quote]
Carrie Iverson has brought her vast experience and knowledge of printmaking into the realm of kiln formed glass to create impressive multilayered installations. She has taught her unique printmaking for glass techniques across the world, including Bullseye Glass in Portland, Oregon, where she now lives as well as Scotland's North Lands, Creative Glass, GlasForum in Norway and Creative Glass in the UK and Switzerland. In 2014 Carrie will be teaching at Pilchuck in Seattle. Her work can be found in New York's Museum of Modern Art and Chicago's Museum of Contemporary Art, as well as private collections and has be exhibited at the Bullseye Gallery (Portland) the Glasmuseum Hentrich (Dusseldorf Germany), Art Santa Fe, the San Francisco Fine Art Fair, the Ukrainian Institute of Modern Art (Chicago), the Chicago Cultural Centre and SOFA Chicago
For more information about Carrie and to see samples of her work, go to her website www.carrieiverson.net
Workshop Dates
Monday 16th -Friday 20th March 2015
Please call the studio on 9375 9810 or email info@artglassstudio.com.au for further information and to secure your place with a $100 deposit.