---
About this event:
Created by administrator
---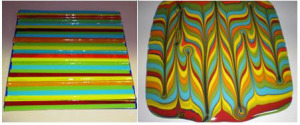 You will be required to complete a test tile (unfired) comprising:
Base tile -35 x 35 cms of clear glass or if using irid place it face down
Second layer of 30 x 30cms of strips of coloured glass. Don't make strips too wide maybe 2 cms maximum.
Third layer of 30 x 30cms of strips of coloured glass
This is a good chance to use up some of your left over glass!! You can also use rods, stringers, frit and dichroic glass making sure all glass is compatible. Please wash properly. DO NOT FIRE IT!
These MUST be brought to the studio by 3pm the day before-so that they can be fired to temperature for you to rake on the day of the class.
Marc will demonstrate the technique and then it will be your turn to comb your own piece.
Please contact the studio for more information for our current
In-House Workshop Schedule
(08) 9375 9810 or email us
Please wear enclosed shoes and comfortable casual clothes to all workshops.